Lilith is mentioned only once in the Bible – in Isaiah 34:14, where the Hebrew word לִילִית ("lilit) is translated as the "screetch owl". In the verse Isaiah prophesizes that she will be one of the demonic nocturnal creatures which will haunt the destroyed kingdom of Edom.
This Hebrew word for the demoness Lilith is thought to be from the root word לִילִ which stands for "night" or "gloom". In Arabic and Akkadian this word stands for "night" as well. However, it is believed by some researchers that the name Lilith comes from the Sumerian lil which means "air", and in some cuneiform inscriptions the terms lilitu and lilit stand for the disease-bearing wind spirits (source).
According to the same source, the first time that we find this demon mentioned is at around 3,000 BC, as a class of Sumerian storm spirits called lilitu:
The Lilitu were said to prey upon children and women, and were described as associated with lions, storms, desert, and disease. Early portrayals of lilitu are known as having Zu bird talons for feet and wings. Later accounts depict lilitu as a name for one figure and several spirits. Similar demons from the same class are recorded around this time frame. Lilu, a succubus, Ardat lili ("Lilith's handmaid"), who would come to men in their sleep and beget children from them, and Irdu lili, the succubus counterpart to Ardat lili.
Further quoting from the New World Encyclopedia:
Babylonian texts depict Lilith as the prostitute of the goddess Ishtar. Similarly, older Sumerian accounts state that Lilitu is called the handmaiden of Inanna or 'hand of Inanna'. The texts say that "Inanna has sent the beautiful, unmarried, and seductive prostitute Lilitu out into the fields and streets in order to lead men astray."

Identical to the Babylo-Sumerian Lilitu, the Akkadian Ardat-Lili and the Assyrian La-bar-tu presided over temple prostitution. Ardat is derived from "ardatu," a title of prostitutes and young unmarried women, meaning "maiden". Like Lilith, Ardat Lili was a figure of disease and uncleanliness.
Lilith in Gilgamesh prologue
In the Gilgamesh prologue we find one of the earliest mentions of Lilith. In it she is identified as a demoness that has her nest in a tree. Inanna, who planted the tree, came back to it after ten years to look after it, and then found out that three creatures have made the tree their habitation.
When Gilgamesh found out about this matter due to Inanna's plight, he killed the dragon occupying the tree, and another inhabitant, the Zu bird, fled with its young to the mountains, and Lilith destroyed her nest and escaped to the wilderness (source).
Lilith as a disobedient woman
Although the myths about Lilith were present in many different cultures from ancient days, it was only in the middle ages that Jews began to claim her as Adam's first terrifying wife who fled from him because she refused to submit to him.
The reason this story was invented (in the 8th – 10th century AD in the anonymous text Alphabet of Sirach) is in order to explain seemingly two creations of man and woman described in Genesis 1 and 2. Some started guessing that the reason these two creations were described was because there actually were two creations.
It is told that at first a man and a woman were created at the same time. However, they started fighting for supremacy the moment they were created. Lilith refused to submit to Adam and escaped the garden, and became a child-harming demon. As a result, another woman had to be created for Adam.
Although there are many opinions about why there are two human creation stories in the book of Genesis, in my opinion at first we see the spiritual creation of beings and then they take on a physical form. I know some disagree with this opinion, but that's how I see this matter.
Another reason why I don't believe that Lilith could have been Adam's first wife is because it's told that first humans were created in YHWH's image and His likeness, and Lilith didn't look exactly human, because she had wings and talons.
Protection against Lilith
But the medieval speculations of Lilith's origins were not first accounts which made the name of Lilith more known to the Hebrew people. She was well known in this culture maybe from the very beginning, and was feared by them for the very same reason she was feared by other nations – for her ability to harm, kill and snatch infants.
Israelis eagerly waited for the eighth day of the birth of a baby boy, so that they would circumcise him and would remove the threat of Lilith. The baby girl was told to be no longer in danger of Lilith after twenty days of her birth. Sometimes infants would wear protective amulets until the days of harm would pass.
In the land of Israel as well as  in many other places in the Near East there were found bowls with incantations written against this demoness.
She is drawn in the middle of the bowl with bound hands or in chains, as it was believed that such a depiction of her would stop her from doing harm.
Around her picture magical incantations were written in a spiral.
Such bowls, also known as "demon traps", were buried upside down as it was believed that this would capture demons such as Lilith.
Such bowls were buried under the threshold, in cemeteries, or in the homes of recently deceased. Most of such bowls are made against three evils – the evil eye, Lilith, and the Bagdana demons which are sort of like lilith demons but stronger and have authority over liliths (source).
Such incantation bowls found in Israel were dated from the 6th century AD.
Succubus demon connection
Although this demoness was especially feared by new mothers, she was also identified as what we know today as the succubus demon, who steals sperm of men sleeping alone and impregnates herself with it to give birth to hybrid offspring (source). She is believed to be the mother of hundreds of demons (source).
Liliths could be either male or female, according to the Jewish understanding. On one of the incantation bowls found in Nippur we read:
Thou liliths, male lili and female lilith, hag and ghool, I adjure you by the Strong One of Abraham, by the Rock of Isaac, by the Shaddai of Jacob, by Yah Ha-Shem by Yah his memorial, to turn away from this Rashnoi (…) and from Geyonai (…) her husband. [Here is] your divorce and writ and letter of separation, sent through holy angels. Amen, Amen, Selah, Halleluyah!
The male aspect of this demon is also found in Akkadian and Summerian mythologies which identify "Lilu" as a masculine wind demon.
Interestingly, the father of Gilgamesh is listed in the Sumerian king list as "Lilu" (source 1 and 2).
In one translation of the king list Gilgamesh' father is identified as a "phantom" (source).
Lilu was told to disturb women in their sleep and had the functions of an incubus (source). So maybe Gilgamesh was born from the union of a woman and a demonic entity.
On another incantation bowl we read:
Salvation from Heaven for Dadbeh the son of Asmanduch and for Sharkoi the daughter of Dada his wife, and for their sons and daughters and their house and their property, that they may have offspring and may live and be established and be preserved from demons, devils, plagues, satans, curses, liliths and tormentors, which may appear to them.
(Source)
The tradition of making bowls with magic incantations against demons as well as wearing amulets for the same purpose probably came from Babylon, where such items were found as well (source).
In Babylonian myths Lilith is depicted as a winged night demon preying on pregnant women and infants. She might be associated with the invention of abortions too, though there are no reliable sources mentioning this fact.
In ancient Mesopotamia the words "lamashtu" and "lilitu" both signified the type of demons that snatch or harm babies. Lilith is known as a winged demoness that dwells in desolate places, and the verse mentioning her in Isaiah supports her affinity with such places of destruction as well.
Aramaic magic texts claim that Lilith could enter the room of a pregnant woman in the form of a fly (source). However, in the Aramaic tradition demons were not limited to being able to shape-shift into only one creature – they could take any form that they pleased, and even become humans if they wished (source).
Some early as well as more recent writers depict her as a beautiful yet evil woman, whilst some depict her as a totally sinister creature. She is even portrayed by some as the serpent in the garden of Eden, or having some kind of reptilian features. She is told to have long disheveled hair (source) and sometimes she is told to have the head of a lion (source).
Sometimes Lilith is depicted as a half-woman, half-snake being.
We see this kind of creature depicted in stone in many Indian villages, where she is sometimes shown with many eggs, probably showing her high fertility.
I remember even taking pictures of the multiple eggs that were engrafted in stone in Gokarna, one of the pilgrimage villages of India, whilst I was visiting that place before being saved by Yeshua.
I know some won't believe this, but I saw slits in the eyes of some Indians who worship those snake beings, so I know that those people are not entirely human.
You can sometimes even feel that they are humans only skin-deep.  I wouldn't be surprised if their bloodline was corrupted by such demonic reptilian beings shape-shifting into humans to copulate with the human race.
Those humans who have something reptilian about them are called psychopaths in our society. They have emotions of a reptile and not of a human being. They are very intelligent and cold-hearted. They are extremely goal-oriented and they always plot to do harm to those who are the descendants of Adam and Eve.
These half-snake, half-human beings are called "nagas" in India.
They were known through the Vedas since around 5,000 BC according to the dating of some Indians.
They were known to be half-divine beings that were extremely gifted and able to assume any shape they desired.
So since these beings are shape-shifters, they might be known in different cultures in different appearances. Therefore Lilith is likely to be the very snake-woman worshipped by Indians, or at least related to them.
In Mesopotamian myths Lilith is said to seduce men, harm pregnant women, mothers, and new-born children, drink blood, and cause disease, sickness, and death (source).
In Greek mythology a similar demoness is called Lamia.
She is told to devour children and seduce men and then drink their blood (source).
In fact, in the early fifth century Latin Vulgate manuscript of the Bible "Lilith" is translated as "Lamia" (source).
The HBO series True Blood has a character named "Lilith" too, and she is told to be the progenitor of the vampire race.
As the movie industry is run by freemasons, and they have the values reversed as they serve Satan, sometimes you can get more truth from their fantasy movies than what you would get from their news sources.
The name of Lilith is also found in the exorcism text of the Dead Sea Scrolls (4Q510-511).
Although we don't find explicit exorcism texts in the Bible, the ancient Jewish community was well aware of the practice of exorcisms. We also read in the Bible that Yeshua Himself implied that Jews cast out demons (in Matthew 12:27). We also read that David would repel the demon that was troubling Saul whenever he would play lyre (1 Samuel 16).
The apocryphal book of Tobit (chapter 6) mentions an angel giving a recipe to repel a demon so that it never comes back, and the early Jewish historian Josephus sometimes mentions demon-possession as well as exorcism cases in his Jewish Antiquities books, such as book eight:
For I have seen a certain man of my own country, whose name was Eleazar, releasing people that were demoniacal in the presence of Vespasian, and his sons, and his Captains, and the whole multitude of his soldiers: the manner of the cure was this: he put a ring that had a root of one of those sorts mentioned by Solomon to the nostrils of the demoniack: after which he drew out the demon through his nostrils: and when the man fell down immediately, he abjured him to return into him no more: making still mention of Solomon, and reciting the incantations which he composed.
(Source)
Jews would expel demons by using the name of a righteous person. For example, they would expel demons in the name of Solomon. Sometimes demons would return, and sometimes not. Thankfully, we now have a better name to call for, which has much more power than any other names, and that is Yeshua.
Lilith's most well-known depiction is now doubted whether it was indeed her depiction or the image of some other goddess (sources 1 and 2).
I do believe this is her image, because she is described in other sources as a winged woman who is also associated with lions, owls and birds with which she is often portrayed.
However, due to her shape-shifting nature not all her depictions would look similar, and that's where confusion about her identity can arise. This changing identity can certainly be noticed among Hindu demons as well.
Beloved by feminists
Currently feminists identify with Lilith because they associate her with freedom, unrestrained sexual activity and independence from the male authority – ignoring her dark aspects.
For example, a Jewish feminist magazine is called by her name; and there is Lilith Fund run in Texas that supports abortion and even raised money for helping to terminate unwanted pregnancies of those women who could not afford them (source).
Identification with this type of demon can produce only such evil fruit; it opens the door for Lilith to enter one's life and even body, as any kind of adoration or identification with a spirit gives the right for that entity to enter your life.
Finally…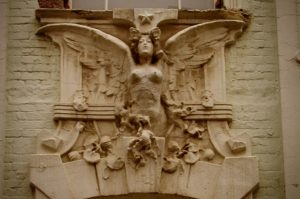 From what I've researched about this creature, I have come to the conclusion that most likely Lilith is a fallen angel who can shape-shift into any kind of form – even that of a human.
Furthermore, since this fallen creature appears in dreams and upon waking as an incubus or succubus demon, it means she can even make herself non-physical.
Because of these reasons I think her to be the fallen angel, and not simply an evil spirit that was created due to the unholy union of fallen angels and human women.
Some readers and viewers criticized me for the fact that I identified one psychopath in one of my earlier videos as a fallen angel because of the dream in which I was told that he was so; some reasoned that this is against the Scripture which says that fallen angels were imprisoned.
But I need to ask – were all of them imprisoned? The Bible seems to indicate their two descents (Genesis 6:4). However, their imprisonment is associated with one fall only. Also, Lucifer fell way before the angels descended to take women as their wives, and I'm sure that he wasn't the only one that was expelled at that time. In many cultures we can read about the war in heaven that made many heavenly beings fall from heaven and lose their place there forever.
So the imprisonment was associated with those who came from heaven to take women as wives – and not the battle that took place in heaven whose result was the expulsion of Lucifer and his armies from heaven. We know that Lucifer is not bound – and neither are his armies, I believe.
Also, there are many other people whose accounts you can find online which are convinced that they have met fallen angels that are humans but have reptilian features like slits in their eyes or you just feel that they are reptilians. In fact, some of them outright reveal their non-human natures.
For example, I remember coming across an account of  woman who dated a psychopath and he revealed to her that he was a fallen angel.
You cannot discount such accounts, because there are many independent accounts claiming this to be the case. Such creatures are not humans, and neither could they be spirits of the Fallen Ones because they can assume a physical form – but evil spirits do not have such an ability.
So the most likely explanation for such creatures is that they are fallen angels.
We know that angels can appear as men due to the many accounts of such events found in the Bible. Therefore most likely these shape-shifting beings, sometimes identified as aliens, are fallen angels.
So since Lilith is associated with androgyny, shape-shifting, the ability to procreate, and also being able to enter dreams as a spirit being, I think her to be one of the disobedient angels that fell from heaven.
And since this demoness as well as other similar creatures are alive and will continue to do their evil work till the second coming of the Messiah, I encourage everyone before they go to sleep to protect themselves by spiritually applying the blood of Yeshua around all the entries into the room, especially if you experienced the attacks by the incubus or succubus demons before.
That's especially important when you sleep alone, as most people who get attacked by incubus and succubus demons sleep alone; and the greatest protection of all is a life lived in obedience to the laws of YHWH, because the obedience to Torah creates around you a spiritual fence which no Lilith or other demon can break.
We should not be afraid of these creatures since greater is He that is in us than the one who's in the world; but we are also asked to study diligently and to be as wise as serpents, so that these creatures, or Satan himself, would not be able to deceive us.