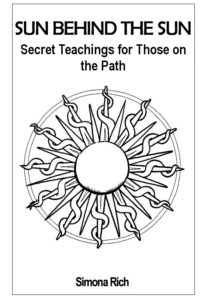 I've finished revising the Sun Behind the Sun book.
Now only the finishing touches of editing are left, and then I will release it.
Here are some topics that are covered in the book:
*How archons operate in human affairs;
*How to know your level of spiritual growth;
*Recognize whether your spiritual growth is genuine or it's a new-age illusive growth;
*In-depth information on Kundalini;
*In-depth information about the Higher Self;
*Western way to achieve the union with your Higher Self (safer than the eastern yoga);
*Esoteric Christian/Hindu/Buddhist teachings explained;
*The lies of Christianity;
*What crucifixion really means;
*How and why planets rule us, and what to do about it;
*What the Holy Spirit really is, based on my research and personal experience;
*And so much more!
The full description of the topics is yet to come.
In this book I've shared with you most of my current spiritual developments and research. I've read many obscure and difficult to understand esoteric books and, coupled with my personal observations and long hours of meditation, I'm sharing with you my conclusions about deeper spiritual topics.
(Subtitle is changed too to reflect a wider scope of topics.)
Book pages so far: 220.
Format: PDF
It will be available through PayPal on donation basis. A link to download the ebook will be sent to your PayPal registered address after the payment.
This book is suitable for those genuinely interested in spiritual growth.
More information about the Sun Behind the Sun is coming soon.
(The content of the video is different from the information in the article. Both supplement each other.)
It would take a whole book to write about my experiences in the two Thai Buddhist monasteries I've visited so far. However, I will try to keep this post quite short and include only most important happenings.
As I've mentioned in my previous articles, meditating for so many hours a day (currently for twelve hours) sharpened and developed my mind.
I developed new spiritual abilities, but since telling about them is like throwing pearls, like Jesus said, I will be quiet about most of them. I told, however, about one new development to do with hearing psychic conversations in a previous post already.Read more…
This is the third part of the Isis Unveiled Vol. 2 by H. P. Blavatsky. It goes into detail how Christianity heavily "borrowed" its revered traditions from other religions, especially Buddhism.
Having spent three months in Buddhist monasteries, I can confirm that she was right.
As I've mentioned in a few of my recent posts, the particular meditation technique that I practiced at the Thai Buddhist monastery for twelve hours a day sharpened and developed my mind.
Namely, that it further developed my psychic hearing ability and I was warned in a dream about the trait I must eliminate.
I'm so happy that I've finally found a technique that truly sharpens the mind. And not only this – it also gets me into deep states of meditation incredibly fast.Read more…
(Watch my new video on spiritual rewards for meditating twelve hours a day.)
This is one of the posts about trying to connect more dots with regards to the full kundalini awakening experience.
I must here also tell that what I mean by full kundalini awakening is not the usual half-awakenings due to drug use or any other artificial ways to rouse this power which only results in harm.
What I'm talking is about a genuine kundalini arousal through yoga and then it leaving through the crown chakra – only to descend back into the body once its union with the Infinite is accomplished, thus making you a triune, and no longer a dual, being.Read more…
There were quite a few times in the past where an unpleasant experience would happen. I would, after meditation (usually during daytime), lie down to rest, and then my body would get into a state of intense vibration.
Instead of astral projecting, which this state usually results in, I would start hearing foreign voices in my head.Read more…