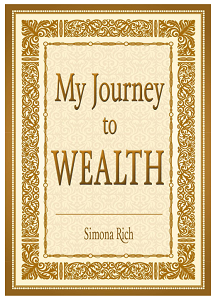 Dear readers,
My Journey to Wealth ebook is now released!
I wrote this book three years ago, and now I've completely updated and revised it. Four new chapters have been added to it as well.
It's a short book explaining how I broke out of poverty consciousness that I grew up with in Lithuania, started my own business, earned enough money to be able to quit my job;
How I became fully financially independent, was traveling to my favorite places in the world whilst blogging about the experiences I was going through (that was and still is my occupation);
How I found spirituality and my understanding of wealth started shifting to embrace the Divine.
This isn't a usual book on wealth, because I see wealth in a slightly different way to how the majority sees it. For me, wealth is not about earning millions and overworking yourself to the  degree that your health fails and you cannot enjoy what you earned.
For me, wealth is about being self-sufficient, yet having plenty of time to do what you love.
So for me, a person who earns Read more…